This is EASILY the most MANLY thing I have ever made, a stark contrast to my
Rocky Road Bars
of yesterday. A calzone is something I've always wanted to make and there's something hugely therapeutic about kneading dough.
Prepare yourself. This is an animal.

Serves 4
430 calories per serving
Prep Time: 45 Minutes Prep
Cooking Time: 30 Minutes
Ingredients:
600g Steak Mince
200g Mushrooms
200g Cheese (Cheddar)
3 cups of flour
A tablespoon of yeast
Olive Oil
Salt and Pepper
Chilli and Garlic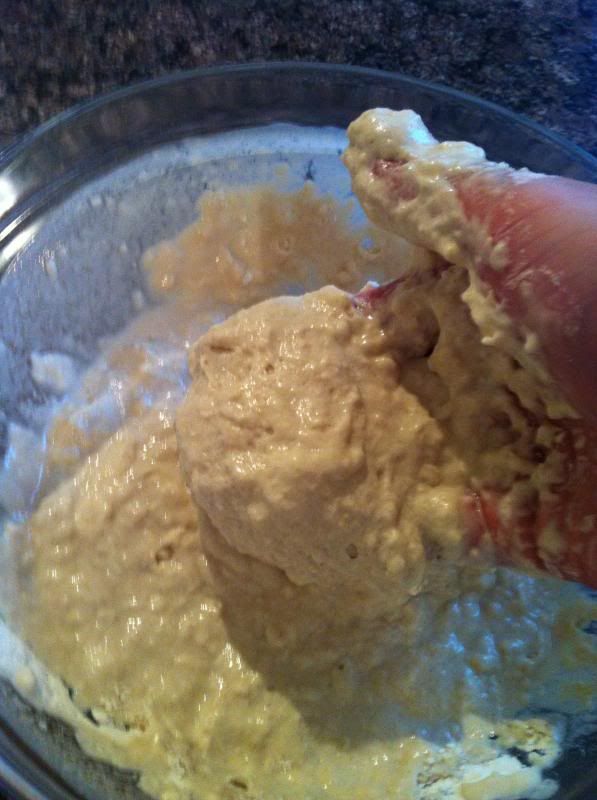 RIGHT THEN. In a mixing bowl pour in 1 1/4 cups of warm water. Now add your yeast. This yeast will start to dissolve, have patience! Once it's sunk throughout the water, and you can still that beer-like aroma floating around, add two tablespoons of olive oil, 2 cups of flour and a pinch of pepper.

This is going to feel bizarre mixing dry ingredients into wet, but go with it!
Stir this until it reaches this sticky porridge stage. Dust a large surface lightly with flour, pour your mix out and knead this beast until it's smooth and dough-like.
Shape this into a bowl, drop back into the bowl and cover with cling film, we'll leave this to rise whilst we prepare the filling!
Pop your oven on at 200c. This will now have plenty of time to pre-heat. With a TEENY drop of oil in your pan, add ALL of your steak mince. If you're using other mince you won't need any oil as the fat from the mince will add enough moisture.
Season this with salt and pepper, and once the mince has started to brown, add your sliced mushrooms.
Snip the head from your chilli, slice lengthways and use a teaspoon to remove the centre. You can go seeds in for extra heat if you want! Slice this very finely with the garlic and throw into your mince mix, stir this powerful gut-busting flavour monster altogether, grate your cheese on top of this and take the pan off of the heat.
This should look good enough to eat right now, and if you're having to move your hungry mouth from the pan,
then you're
Your dough will have made the cling film bulge slightly, this is a good thing, it's expanded, and it's ready to roll!
Again, flour the surface lightly and use a rolling pin to stretch this out, or like me, wrap a wine bottle in cling film! You know what to do! Roll until it's about 5mm thick all over. Create an imaginary line down the middle and pour you meat on one half of the line. It's almost time.......
Calmly, and confidently, wrap the top over. This should now look like the most awesome,
GIGANTIC
pasty that you've
EVER SEEN!
This was so huge I actually had to cut it into halves to get this into the baking tray. Once in slap in the oven until the top goes a dark brown.
GET READY!
Prepare your cutlery, a knife and fork will not suffice. Grab the nearest Sword and Trident and DIVE IN! Serve this up with chips... if you want to commit CARBICIDE!
Or serve with a healthy salad. But there's really only one type of salad to have with this.
Thanks for reading guys, I hope you're all enjoying the blog and the feedback I've received from you all is fantastic, it fills me with such confidence!
Don't forget to leave your feedback and let me know what you all think!
Dan
x